Our Relay software sends data from your timing computer to RaceHero® so everyone can access live timing, results, entry lists and schedules from any device. Questions? Email us anytime.
Feel free to choose to read our detailed Walkthrough if it is your first time setting up the Relay, or our Quick Start version if you already have experience using it.
1. Check system requirements.
RaceHero is compatible with MYLAPS Orbits 4 SP3+ and MYLAPS X2/Orbits 5.1+. All you need is an Internet connection and a Windows (XP, Vista, 7, 8, 10) computer on the same network as your Orbits timing computer. No decoder required.
Not sure which version you have? Want to upgrade for free? Click here for directions.
Find your Orbits version number by choosing the "Help" menu then click "About Orbits" (see below).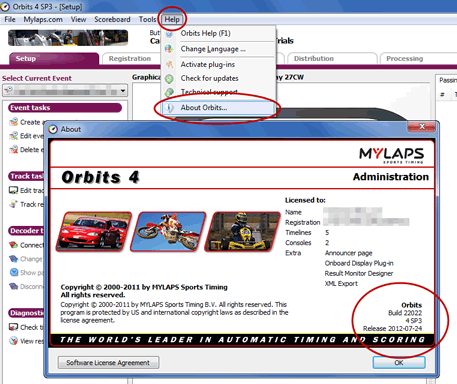 If the release you have is Orbits 4 SP3 or newer (released after July 24, 2012) you are good to go. If not, upgrade Orbits for free by clicking the button below.
Upgrade your MYLAPS Orbits
2. Download, install & start the RaceHero Relay
Our Relay software sends data from your Orbits timing computer over an Internet connection to RaceHero. It is generally installed on the computer used to process results, which may be the same computer as Orbits or another computer on the same network. Start the RaceHero Relay application from the Desktop or Start Menu.
Download RaceHero Relay for MYLAPS Orbits
3. Sign In to RaceHero & Connect to Orbits
Enter the email and password for your organization, and select your timing computer from the dropdown or enter an IP address. If you are running Orbits and RaceHero on the same computer, you can enter "127.0.0.1" for the address. Click "Fire it up".
Click here if you need an organization account
4. Set the Live Event & Venue
Once connected, choose your event from the dropdown. The Relay will prompt you for a venue and configuration in the RaceHero system to finalize the setup. Simply type the first few letters of your track. Most permanent racetracks are in the list but you can add a new venue and/or configuration as needed.
Click here for venue setup screenshots.
Search for your venue and select it from the dropdown or choose "Create New Venue" if it doesn't exist.
Next, choose a configuration from the dropdown. The track length in Orbits and RaceHero must match. If your venue is new or you don't see the track layout you are running, choose "New Configuration" and fill out the short form and click "Save Venue".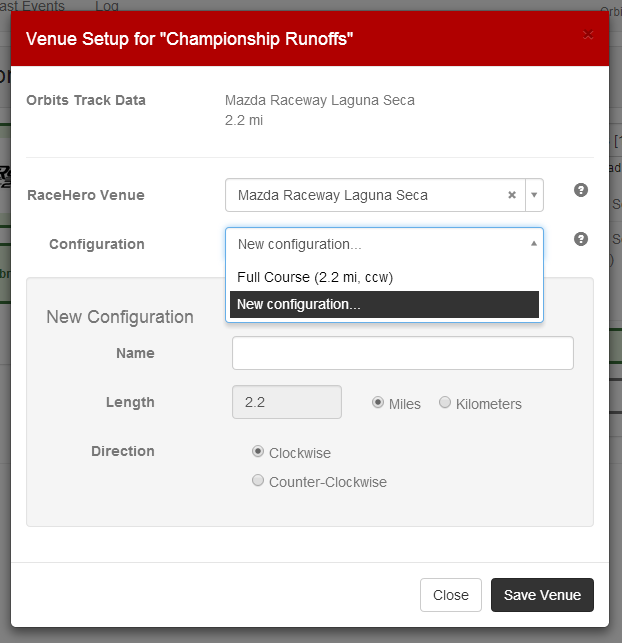 You should have three green boxes on the screen confirming that your event is ready to go!
5. Run Your Races Like Normal
RaceHero operates without any babysitting, streaming live timing as soon as you click the warmup or green flag and automatically uploading provisional results as runs are stopped in Orbits.
An optional step (greatly appreciated by your racers) is to publish final results once cleared by the stewards which can be done under the "View Event Details" link.
You can also publish Merges such as for combined qualifying sessions, heats or Time Trial format racing where multiple runs are joined together to either set grids or determine results.
6. Promote and Distribute Results
RaceHero offers several mechanisms to promote live timing and results including website embeds, printable flyers and direct URLs to your events making it easy to share via email and social media.
RaceHero Relay for MYLAPS Orbits is optimized and packaged with Excelsior JET
MYLAPS is a registered trademark of MYLAPS Sports Timing.